About Durban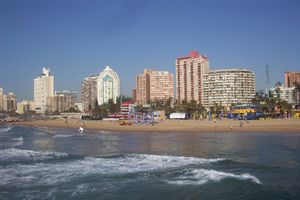 Durban - Africa's leading conference destination - is a vibrant city where a blend of local cultures - African, Asian and European - is reflected in a mosaic of architectural styles, a melting pot of traditions and colourful cuisine.
Its privileged location on the Eastern seaboard makes it South Africa's only destination offering warm winters and tropical summers -320 sunny days a year. It is an obvious choice for conference planners, tourists and sports enthusiasts, because this is the city that sizzles and where the sun never sets.
Conveniently situated and highly accessible, Durban is less than an hour's flying time from Johannesburg and once you arrive, everything you need is within easy reach.