Message from the Head of the Steering Group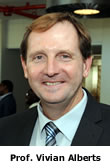 It is a privilege and honor to host the first Africa Photovoltaic Solar Energy Conference and Exhibition in Durban from the 27th until the 29th of March 2014. The hosting of this prestigious event in South Africa underscores the recognition given by the international community for the technical innovations in and the rapid commercial advancements of the solar PV sector in South Africa, especially over the past two to three years.
The conference and exhibition will allow local government officials, scientists and business developers to interact and exchange information with representatives from leading international PV companies and foreign government agencies. This opportunity will without doubt stimulate and strengthen direct and indirect cooperation within the international scientific and business communities, which is a prerequisite for much needed support of the development of a sustainable solar PV industry in South Africa and Africa. With this in mind, the active participation of local academic research groups as well as relevant commercial entities and government departments are required in order to guarantee the success of this auspicious event.
I am confident that the first Africa Photovoltaic Solar Energy Conference and Exhibition will be remembered as the catalyst for sparking future solar PV innovations and strategic business opportunities in the African continent. I look forward to meeting you in Durban and I am eager to join all of you in an effort to make positive contributions to this historical event that will shape the future of solar PV in Africa.
Professor Vivian Alberts
Member of the Executive Committee 
Head of the Steering Committee